Lynx Lake
Tucked away in the Bradshaw Mountains at 5,500 feet elevation, Lynx Lake is a beautiful getaway! Located just 15 minutes Southeast of Prescott, this lake is prime for boating, fishing, camping, hiking, kayaking, sailing, and canoeing. Though swimming is prohibited, there are boat rentals if you do not have one of your own at the Lynx Lake Store. They are open from late Spring to early Fall and always closed on Mondays. If you have your own boat be sure to note that only 10 horsepower or less engines are allowed at Lynx lake. If you are looking for a stroll, check out the Lakeshore Trail. This is a 2 mile long trail that leads all the way around the lake. It is mostly wheelchair and stroller accessible but be cautious of a few steeper sections. This lake is part of the Prescott National Forest and visitors should make sure to leave to no trace. This means picking up garbage and fishing materials. After a fun day on Lake Lynx there is no better place to enjoy the summer than having a picnic with your family and friends. There are many picnic tables and grills on the South and North shores of the lake! Come escape the desert heat and relax on Lynx Lake!
Visitor Information for Lynx Lake
FISHING FACTS:
There are Rainbow Trout, Largemouth Bass, Crappie, and Catfish in the lake.
An Arizona fishing license is required for anyone over 13 years old
Bag limits are 6 Trout, 6 Bass, and unlimited Crappie and Catfish
CAMPING:
Lynx Campground: Located West of the Lake with 39 sites
Hiltop Campground: Located a quarter mile South of the lake with 38 sites
All campgrounds have drinking water and toilets
No hookups available
Campgrounds open from April through October
There is a seven day limit of stay per every 60 days
PAN FOR GOLD
Salida Gultch Trailhead along Lynx creek is designated for gold panning
Open to the public
Don't forget to bring your own pan!
No motorized equipment
All holes must be backfilled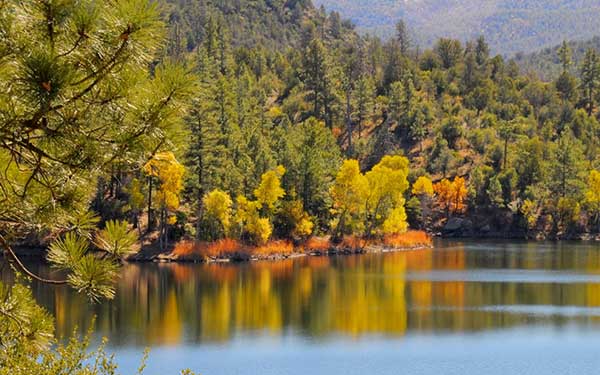 Photo Credit: lifeisaroadtrip.wordpress.com
---
OTHER THINGS TO DO OUTDOORS IN PRESCOTT
---
---
---
---
---
---
---
---
---
---
---