Peavine Trail Along Lake Watson: Easy Bike Trails in Prescott
If you're in the Prescott area and are looking for a fun, scenic, yet easy adventure, explore the Peavine Trail near Watson Lake either by foot, bike, or even by ebike! If you don't own an ebike, it's easy to rent one in the area. Also from the Peavine Trial, there is access to beautiful single-track trails for a more challenging hiking or mountain bike ride that branches off around the lake itself.
You can start your adventure on South Prescott Peavine Trailhead just off of Prescott Lakes Pkwy and Sundog Ranch Rd, right across from the Yavapi Humane Society. The parking log here charges a $3 daily fee that can be paid at a self-serve kiosk at the trailhead.
The Peavine Trail is the remnants of Prescott's first railway, the Prescott and Arizona Central (P&AC). It's an old abandoned mining railroad corridor that has been reclaimed and is now maintained by the city of Prescott and is open for the public to enjoy.
The trail starts off heading north and heads into a corridor of cottonwood trees with some open areas to the east that hosts Prescott's waste management facilities followed by the city's firefighting and police training facilities. However, shortly thereafter, you'll see the tail end of the lake to the west followed by more cottonwoods that come into view and then disappear only to display an open, scenic view of Watson Lake.
Watson Lake sits in an amazingly beautiful geologic area. The pink granite formations surround the lake itself; a granite basin with all sorts of tiny inlets snaking their way through the granite dells.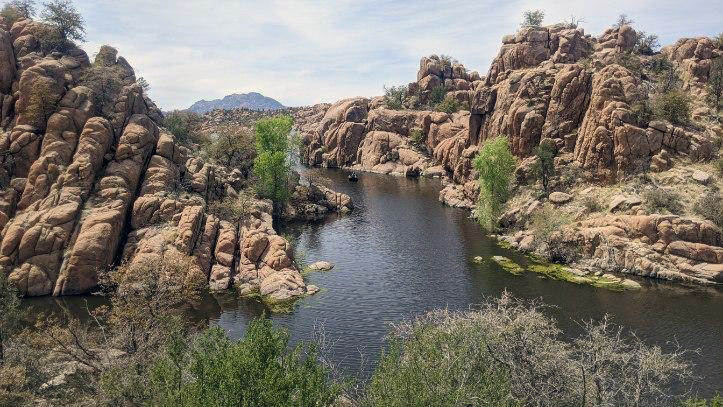 While swimming is not allowed on the lake, you'll find plenty of people taking advantage of the great weather on either kayaks or stand-up paddle boards.
The trail is well-maintained and is fairly flat with hardly any elevation gain or loss making it a very family-friendly bike ride. Riding the trail about 5.5 miles to the north will put you in the Peavine Trail North parking lot. The northern end of the trail, while a bit less scenic, still offers views of rolling grasslands and, of course, the new subdivisions popping up everywhere. But it is still worth the minimal effort to get there.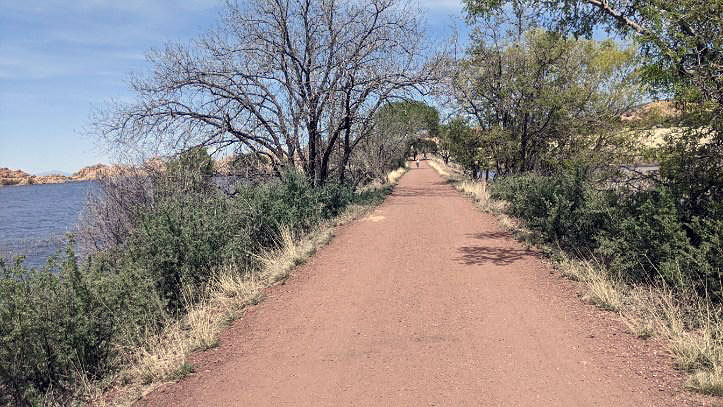 All together, if one makes it out to the north lot and back, you will have made an 11-mile trip.
The combination of Watson Lake and the Peavine Trail makes this gem of a trail a worthwhile mini-adventure that locals and visitors alike.
If you don't have access to either ebikes or watercraft, there are local outfitters such as Born To Be Wild Adventures (B2B) for watercraft or rent an ebike with Prescott E-Adventures.
---
Peavine Trail Info
Rated: Easy
Distance: 11. 9 miles Out and Back
Elevation Gain: 511ft
Directions: Take Hwy 89 to Prescott Lakes Parkway, then to Sundog Ranch Road. Google Maps Directions
Parking Fee: $3 per vehicle
---
Other Great E-Bike Trails
Pedal Your Way Through Prescott, Arizona: Top eBike Recreation Areas
Prescott Circle Trail
If you're up for a longer ride, the Prescott Circle Trail is a 54-mile loop that takes you through some of the most scenic areas of Prescott, including the Granite Dells, Thumb Butte, and Goldwater Lake. While this trail can be challenging in some areas, the eBike makes it a manageable and enjoyable ride for most people.
Thumb Butte Recreation Area
For a more challenging and scenic ride, head to the Thumb Butte Recreation Area. This area offers a variety of trails with varying degrees of difficulty, from easy nature trails to more advanced mountain biking trails. The panoramic views of Thumb Butte and the surrounding mountains make the ride well worth the effort.
Yavapai-Prescott Indian Reservation
The Yavapai-Prescott Indian Reservation offers several eBike-friendly trails that wind through the picturesque landscape of the reservation. The trails are relatively easy and offer stunning views of the Bradshaw Mountains and the Verde River Valley.
---
MORE FUN THINGS TO DO OUTDOORS
---
---
---
---
---
---
---
---
---
---
---
---